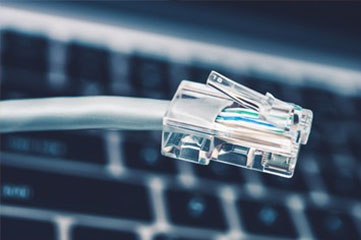 Network cabling is used when a group of computers all use the same network to obtain internet access. Starting from each office of room, Fidelis will take the most efficient and economical to get you connected while staying within your budget. Fidelis will discuss your options and let you know which industry standard is the best.
Fidelis uses CAT 6 cable, a simplified way of saying Category 6 cable which means a twisted pair of copper wires that allow signals and information to be carried across the network. We follow industry standards in installation, testing, and trouble shooting. Let our knowledge over the years benefit your company and let us know what we can do to help bring you to the future.
For over 17 years, Fidelis has been faithful in our pursuit of customer satisfaction in the field of network cabling. Fidelis has worked, with schools, hospitals, office buildings, and even Ports and Chemical Plants to get all their network needs satisfied. We work with CAT 5, CAT 5E, CAT 6 and CAT 6A cabling to get your network needs up and running. You will be pleased with the level of expertise that Fidelis brings whether it is for one cable or a thousand cables.
Whether you are needing new cables installed, or moving existing cables Fidelis can make the move seamless and get you back up and running in no time. Fidelis follows industry standards in Network Cabling and can install switches, cabling, jacks, J-hooks, racks, cabinets, faceplates, labels, or anything else needed. Do you have a closet that is out of sorts? Give Fidelis a call and have one of our amazing technicians come out and dress your cable. If you happen to be moving buildings and need assistance making sure everything comes up the same as before, let Fidelis help because here at Fidelis communication is key.