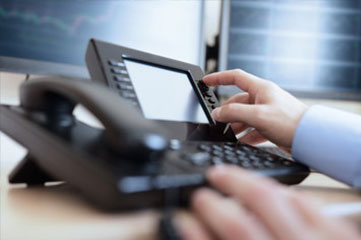 Fidelis can evaluate, analyze, and implement state of the art solutions to help our customers reach their business goal objectives and improve their voice and data communications. There is no job too big or too small for Fidelis. Voice over Internet Protocol (or VoIP) phones are state of the art in the sense that they take the phone company out of the equation allowing that money to be used for other parts of the business.
VoIP also allows customers to attach documents, conduct virtual meetings, share data via video conferencing. VoIP does more than increase savings by lowering its cost. It also allows the customer to integrate software programs, such as e-mail, fax, and remote conferencing over the internet by way of the telephone. It will allow the customer to speak in the phone and even access the internet simultaneously.
Many Hospitals, and Schools are switching to VoIP to be able to handle the volume of calls they get in daily. VoIP is also able to be programed. For instance, let's say you want line 1 to ring, but you don't want any of the Administration's phones to ring, that can be programed in. But if you dial line 3, only the Administration's phones will ring, then we can do that. What if you want to phone conference with other people in your department, but not with the entire staff, one button can be programed to get only those you select on the phone for a conference call. The possibilities are endless when with a phone system and Fidelis.